Best G-Sync PC Gaming Monitors
While G-Sync was released back in 2013 it really wasn't until last year that I was on board with the monitors being made for it. Improvements in IPS technology as well as quality improvements are what won me over.
So, if you're thinking of upgrading to one of the more mind-blowing technologies I've seen it recent years, which G-Sync monitor is best? While I can't give you a definitive answer on the subject, I can elaborate on the monitors I've seen and tried out and give you my shortlist of monitors you should choose from.
What is G-Sync?
G-Sync is great because it minimizes display issues we FPS (first-person-shooter) players have had for many years. These include screen tearing, display stutter, and input lag.
G-Sync works by synchronizing your display's refresh rate to your graphics card. Normally screens have a fixed refresh rate, such as 60Hz or 120Hz. A 60Hz monitor, for example, will update the screen regularly every 16ms. Graphics cards (GPUs), in contrast, have a variable render rate that isn't necessarily the same as the monitor's. When the GPU's variable output is mapped to the monitor's fixed update schedule, the mismatch creates artifacts like tearing and stuttering.
G-Sync turns that around and forces the monitor to connect to the GPU directly, so the GPU can tell the monitor when to update itself.
Best PC Gaming G-Sync Monitors 2016 Update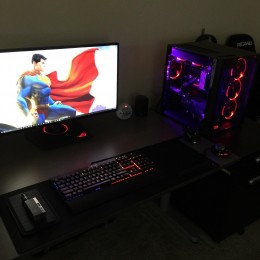 Asus PG279Q 27″ G-Sync Monitor
While last year I would have recommended that you stay clear of the Asus ROG Swift monitor, this year it's definitely one of my favorites.
They've gone from a questionable TN panel to a good IPS one with full sRGB gamut, a 2560 x 1440 resolution, and up to a 165Hz refresh rate.
Speaking of refresh rates, in my opinion, don't worry about anything between 120Hz and 165Hz. I truly haven't found anyone that can tell the difference. That being said, the option is here on the new Swift ROG and it certainly doesn't hurt.
Asus PG279Q vs Acer Predator XB271HU Quality
For quality, Asus does it best in this category. That being said, they're also considerably more expensive than other monitors on the list. Quality of life improvements including a joystick for adjusting the menu and extensive connectivity options like HDMI, DisplayPort, and 2 x USB 3.0 are part of the reason for that. The other is that the Swift just seems a bit more sturdy than other displays out there.
Putting it next to the Acer Predator XB271HU, you can feel a little bit of that difference and you do pay for it. Still, at this price point, it's difficult to not want the best and if you want it, you'll find it in the Asus PG279Q.
ASUS ROG SWIFT PG279Q 27″ Screen LED-Lit Monitor
Acer Predator XB271HU
Acer Predator XB271HU
I've had the opportunity to get up and close to the Acer Predator XB271HU and I'm greatly impressed. For specifications it's a lot like the Asus model above, but has a price tag that's around $200 less.
As I mentioned above, I'd put the build quality of the Asus model above slightly above this one. Still, take away the stands, and I'd probably save money and go with the Acer model.
Connectivity includes DisplayPort and 1 HDMI 1.4 port. Specifications include a 144Hz refresh rate (165Hz overclock option), .233 pixel pitch, 2560 x 1440 resolution, and a WQHD IPS display.
Backlight bleeding issues for the Predator and ROG Swift:
For most IPS panels there is IPS glow or backlight bleed. This is true with these models as well. If you're especially sensitive to it, then you may have to order more than one in order to get what I'd consider "less" glow. Ultimately, you'll need to expect these types of issues when being particular about these monitors. For a perfect model, you'll need patience.
Acer Predator XB271HU bmiprz 27-inch WQHD (2560 x 1440) NVIDIA G-Sync Widescreen Display
Acer XB280HK: World's First 4k2k G-Sync Display
If screen space and resolution are important to you, then the Acer XB280HK might be the G-Sync monitor you want. 4K monitors have four times as many pixels as the standard 1080-pixel display (see some 4k monitors here). While going above 60Hz is a bit difficult in 4k it certainly helps to have G-sync to help you avoid any stuttering or tearing that might occur.
The XB280HK, a 28″ LED 4k monitor, has four USB 3.0 ports, ultra low dimming for dark environments, 170-degree viewing angles, and DisplayPort V1.2.
Overall, it's a good monitor for those of you who prefer pixels over high frame rates. I personally wouldn't choose it over the two models above, but that's just my preference.
Acer XB280HK bprz 28-inch Display Ultra HD 4K2K NVIDIA G-SYNC (3840 x 2160) Widescreen Monitor
A Good and Cheap G-Sync Gaming Monitor
Acer Predator XB241H G-Sync Monitor
Probably a better option than the Asus model below is the Acer Predator XB241H. While I sound like a broken record mentioning another Acer model here, they truly are worth of praise this year for their monitor design and affordability.
Speaking of affordable, the Acer Predator XB241H comes in at around $375. That's less than half of its 27″ model.
What you get in return is a TN, 144Hz, and G-Sync gaming monitor that is still really good for the money you spend.
Acer Predator XB241H bmipr 24-inch Full HD 1920×1080 NVIDIA G-Sync Display, 144Hz, 2 x 2w speakers, HDMI & DP
ASUS VG248QE Monitor and Kit
A less expensive way to get G-Sync is to purchase ASUS's 2014 model, the VG248QE, and use an installation kit or simply buy a used one off of e-bay.
Or go without G-Sync on this one. The VG248QE is a fantastic gaming monitor because of its low input lag, bright screen, and high refresh rate.
The kit itself will set you back about $200 if you can find one.
Asus VG248QE 24-inch Full HD Ergonomic Back-lit LED Gaming Monitor
G-Sync Vs. FreeSync
If you are wondering whether you need the very latest technology, understanding the difference between G-Sync and FreeSync might help you decide whether it's worth it to upgrade to G-Sync in 2015.
After NVIDIA released G-Sync, other companies proposed competing technologies that they claimed would do something similar and be available soon. AMD, in particular, introduced FreeSync, which it stated would be a similar solution to G-Sync, available to all in the near future. Are the two techniques exactly the same or just close?
FreeSync and Adaptive-Sync
Adaptive-Sync is a new VESA standard that is part of the 1.2a specification for DisplayPort. FreeSync is an AMD project to produce graphics cards and drivers that support the new standard.
Instead of updating the monitor at a constant refresh rate, FreeSync makes the monitor update match the display update, which, somewhat like G-Sync, makes for a visual experience that's smooth and fluid.
After some delay, FreeSync monitors are just beginning to be released; They may not be exactly what you want as they need to be used with a compatible AMD Radeon graphics card, they need DisplayPort 1.2a, and as yet some of them are limited to refresh rates of 75Hz or 90Hz or less. Also, they are expensive. That being said, there's hope that FreeSync might eventually be cheaper than G-Sync, because FreeSync is tied to an industry standard that may be widely adopted.
Which GPUs are Compatible with FreeSync?
AMD has released a list of Free-Sync compatible graphics cards which includes older cards like the R9 290X, 290, R7 260X, and R7 260 while leaving relabeled 280s behind.